Tegenwoordig rijzen indie (onafhankelijke) patroondesigners als paddestoelen uit de grond. Hoewel ik hierom super blij ben, kan ik soms door het bos de bomen niet meer zijn. Daarom heb ik speciaal 26 toppatronen (kon niet kiezen welke ik zou weglaten dus dan is het maar 26 i.p.v. 25 😉 uitgekozen. A.d.h.v. deze patronen ben je volledig gesteld en heb je een uitgebalanceerde kleerkast ;). Ik heb ze zelf nog niet allemaal gemaakt of gekocht, maar ze staan zeker op mijn to-do/wishlist.Veel plezier!!
Ps: Onderaan vind je een leuk overzichtje als je door het bos de bomen niet meer kan zien 😉
—
At these time indie pattern compagnies are rising from the ground and I couldn't be more happy about it. Unfortunately with all this patterncompagnies and patterndesigns it's hard for me to know which one is a garment to make and compagnies to look out for.
So I selected 26 (couldn't decide which one to leave so I took 26 instead of 25) of my favorite indie pattern designs you defenitely need to make! I unfortunately didn't make /own all of them, but for me they all make a perfect, well-balanced closet. From a coat all the way until undies, this list is well concluded 😉
At the end of the post you can find a complete overview, if you got lost during the text 😉
(1) MARUMI COAT – BLOUSETTE ROSE
Need a warm, oversized coat with some special details, I think this one fulfills your wishes 😉
(2) LONETREE JACKET – ALLIE OLSON:
An ideal jacket that you can wear during mid-season. 
(3) INARI TEE DRESS – NAMED
The beautiful and immerfamous cocoon dress that turns without any effort from cozy to chic depending on the fabric choice. You can also make the short t-shirt variant.
(4) KIELO WRAP DRESS – NAMED CLOTHING
Without any effort a beautiful interesting shape that comes with only 3 pattern pieces!!
(5) KITSUNE STRAPLESS DRESS – CHARLOTTE KAN
Where it over your bikini as a perfect swimsuitcover up and make it into a voile/satin when you want to turn it into a dinnerapproved dress.
(6) ALDER SHIRTDRESS – GRAINLINE STUDIO
An interesting take on a normal shirtdress.
(7) BETHIOUA SWEATER – ELLE PULS
An ubercomfy sweater with a beautiful back design!
(8) LANE RAGLAN – HEY JUNE HANDMADE
A t-shirt and hoodie all in one pattern!! How easy can it be?
(9) NETTIE T-SHIRT/DRESS – CLOSET CASE FILES
A close to the body/fitting t-shirt/body or dress. Ideal to make lots of variations with it.
(10) JASMIN T-SHIRT – COZY LITTLE WORLD
A loose, but really flattering type of t-shirt that suits every body type.
(11) BLOUSE MARTHE – REPUBLIQUE DU CHIFFON
(here)
Because of the easy make and the beautiful high low hemline and its longer sleevses it's more ideal for the colder days.
(12) CAMAS BLOUSE – THREAD THEORY
(here)
A beautiful loose fitted blouse, with a possibility to make the yoke in a different fabric 
(13) XYT WORKOUT TOP – FEHR TRADE
A workout top that comes with different back variations so you could choose one you prefer.
(14) SILK CAMI – SEW OVER IT
Basic pattern that you need in your wardrobe. In a cotton it's just a normal one, in silk it becomes an ideal party top.
(15) OGDEN CAMI – TRUE BIAS:
A variant on a basic top but with a beautiful low V-back and thinner straps. (in Belgium we call it spaghetti straps :p)
(16) GINGER SKINNY JEANS – CLOSET CASE FILES
The daredevils who want to make their ouwn pare of jeans can use this amazingly designed skinny jeans pattern.
(17) CHI-TOWN CHINOS SKIRT/SHORTS/LONG PANTS – ALINA DESIGN CO
(here)
Whether you need a sexy skirt, handy shorts of boyfriend pants, with its 2 expansion packs, this handy comes to the rescue
(18) HUDSON PANTS – TRUE BIAS
(here)
Because every women needs a pair of jogging pants to use at home or to go on a daily run.
(19) MAGNOLIA SHORTS – SEW CAROLINE
Such flowy and windy shorts. So comfy it often feels you're not wearing something at all.
(20) ALLY SKIRT – BLUE DOT PATTERNS
A cute button skirt with two different and interesting pocket designs.
(21) 1001 PERLES – IVANNE SOUFFLET:
A skirtpattern that comes with 4 completely different designs. Especially like the 'soleil' one.
(22) FIFI PYJAMAS – TILLY AND THE BUTTONS
(here)
A cute but sexy pj set, ideal to add lace.
(23) SOPHIE SWIMSUIT PATTERN – CLOSET CASE FILES
(here)
A stylish but very supportive swimsuit should any girl have in her closet.
(24) WATSON BRA – CLOTHHABIT
In the days you want to wear an ubercomfy bra without worring about the lack of support.
(25) MARLBOROUGH BRA – ORANGE LINGERIE
When your ladies needs extra support, these beautiful pattern comes to the rescue 😉
(25!) BELLA &ESME PANTIES PACKAGE – EVIELALUVEDIY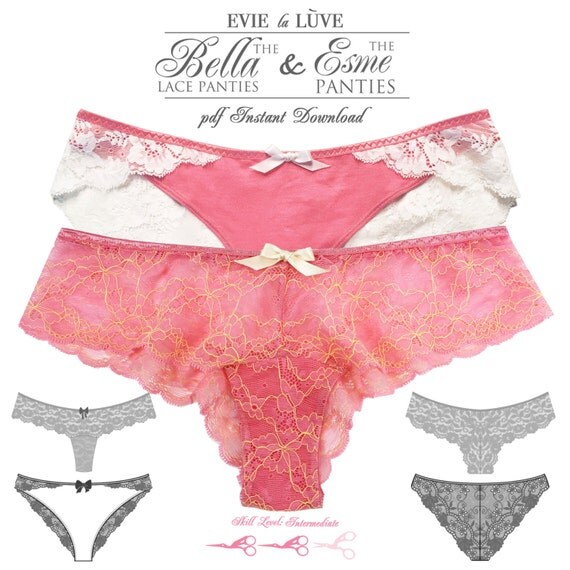 A sexy pair of two total different panties, all with a low-raise on the hip.
EXTRA: for the daredevils:
NEHALEM SKIRT/PANTS – SEW HOUSE SEVEN:
A style that you must try out because it turns out way more flattering than you imagine at first.
THE COMPLETE LIST:
—
Voila we zijn er volledig door. Wat vindt je ervan? Heb je er al enkele van gemaakt? Wat zijn jouw favorieten?
—
Voila we've seen them all. What do you think? Which ones did you make already? What are your favorites?
xxx
Lien
PS: All photocredits go to the designers/bloggers they are NOT mine! Except for the beautiful rose list 😉